Starting from the concert in Lucca, the Italian press has reviewed the DMB shows in Italy with passion and enthusiasm. After a ten years gap, the return of the band in 2009 was a triumph, immortalized in the official release of the box set Europe 2009, which even brought together the opinions of two historically "rival" music magazines as
Buscadero
and
Jam
(where the box set was reviewed as album of the month in the February issue).
Here are some reviews of the DMB 2010 Italian tour, including interviews with Corsina Andriano and Luigi Lenzi, respectively President and Founder of
Con-Fusion
.
***
If rules are broken... must be the Dave Matthews Band
by Francesco Monaco
translated by Carla Melis
When it comes to the Dave Matthews Band there is always the risk of running out of adjectives, similies and definitions. Even the "jam band" label, which should be enough to save the supergroup from Virginia from any attempt at classification in a genre, is not good enough. Let's use then "free rock", to accentuate an attitude typical of jazz improvisation, coupled with a composing freedom that is not tied to riffs and choruses. After the triumphant concert in Lucca last July, Dave Matthews and company are back in Italy by popular demand for a tour of three dates in arenas (Palasharp in Milan on Monday , Palalottomatica in Rome yesterday , and Palasport in Padova tomorrow), a tour that confirms the band's recovered energy after the emotional shocks and line-up rearrangements caused by the tragic death of saxophonist LeRoi Moore.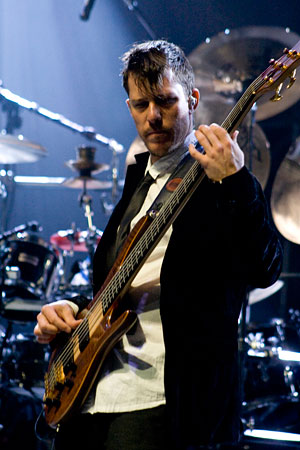 A quintet for a long time - with an unusual instrumentation for rock since it didn't have a "lead" electric guitar - the DMB is now a band of 7 elements (formally 4 + 3), a number that broadens the possibilities and the ability to expand the sound but without changing the character: after all, guitarist Tim Reynolds has always been close to the DMB - and present in the studio albums with his fine guitar work - as well as trumpet player Rashawn Ross who had already shared the stage with them when Moore was still alive. The only real novelty, ultimately, is powerful saxophonist Jeff Coffin, enrolled to replace poor LeRoi.
They are most impressive live (a fact well known in the U.S. where their shows have been at the top of the charts for popularity for years now): solos and instrumental queues follow each other without interruption, and Dave Matthews's voice (folksinger's look, acoustic guitar and an especially remarkable vocal flexibility), Stefan Lessard's funky bass lines and Carter Beauford's spectacular drumming (always with a smile on his face) constitute the base to which the other players add their contribution, with violin player Boyd Tinsley who keeps his cool even when a string breaks in "Jimi Thing".
In addition to the songs from their latest album "Big Whiskey & The GrooGrux King" (eight including the first single "Funny The Way It Is" and the wild "Shake Me Like A Monkey '), there are a liberating "Dancing Nancies," a delicate "Satellite", an uncontrollable "You Might Die Trying " and a cover of "Burning Down the House" which is truer and more nervous than the original. Grand finale with "Ants Marching" after two and a half hours of total music. And I'm out of adjectives.
Gazzetta di Parma (february 2010)

Go to the article

All the articles