by Corsina Andriano
translated by Riccardo Ranzato e Carla Melis
Con-Fusion played a major role in the European DMB tour, becoming an active part in the organization of the Italian dates, of the related events and in managing contacts with the media. Thanks to the patient and professional work through the years, Con-Fusion has become the major organizational machine to promote the DMB in Italy. There is no organization like ours in Europe, one that can independently promote events and with a complex network of public relations that involve the recording industry, infrastructures, the Italian promoters, and the media.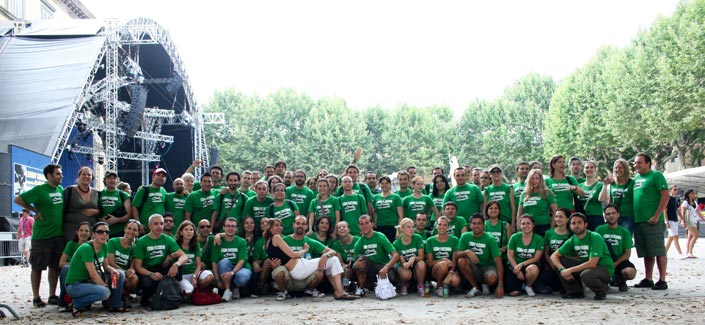 But what happens behind the scenes of the greatest jam band of the current music scene? You just need to spend a few days backstage to realize what kind of organizational machine supports, easily and yet with impeccable precision, one of the most exciting live shows you can attend.
The DMB crew is organized in concentric rings with different hierarchies of access, to which are assigned different and very precise passes, making it a pretty closed structure. Everything that happens during any DMB tour, at home or abroad, is under total control of the American management. Everything. Nothing is left to chance. Above all, there is nothing totally delegated to the local promoter.
In America, the DMB can afford to be independent from the promoters and from the common laws of the music market: highly independent and carefully self-centered and autonomous, the DMB has always promoted itself, exponentially increasing their fame with constant live acts and the enthusiastic word of mouth from fans.
Things are not different in the rest of the world. The organization of a tour outside the U.S. is left to the local promoter for what concerns the promotion of the tour itself and to the record company as regards the promotion of the band. But Sony-BMG and in Europe Warner Music, are simply the distributors of DMB records, therefore they have no special economic interests. Moreover, at European level there is a fragmentation of the label and of its link with the DMB, which is very strong in England and entirely lacking in Italy. To achieve its privileged role within the organization, Con-Fusion has patiently worked through all the hierarchical levels of access, thus gaining the trust and esteem of the American management and acting as a 'filter' to control access even by the press.
Milan, February 22th
5 p.m. A cold, persistent rain makes me and Elena Pizzetti all numb while we stand in front of the service entrance of the Palasharp. G., Tour Director of DMB, arrives and we get into the hall while Elena goes to the press meeting point for the interview with Dave Matthews.
G. gives me the all access for myself, Livio Piubeni and Benedetta Copeta and we head to the crew's headquarters. B. the tour manager, is captivatingly nice. Each person has specific tasks and moves according to a plan, ready to welcome interesting ideas even at the last minute. In my past experiences backstage I have never seen an organization so strong and slender, even in the Peter Gabriel tour, who is known to be very demanding and maniacally precise.
Everybody busy working on their Macs and cell phones, in an amazingly relaxed atmosphere. The pace is frenetic and relentless also in the office of D'Alessandro&Galli, where I make sure everything is all right for Luca Cepparo's photo passes. I hand over the press clippings I was asked for and the gifts for the band and crew. Everything is readily collected by C., who appears out of nowhere, and distributed to their recipients. J., the head of American security joins us, and coordinate the meet & greet with Dave Matthews while on the phone with S., the European manager. Meanwhile I take care with D'Alessandro & Galli security of all the final details for Con-Fusion members' early admission with wristbands.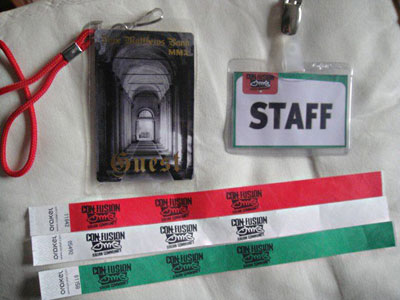 I am told that there will be a meet&greet for sure at all three Italian dates for 10 members of Con-Fusion. J. gives me the 10 passes for the meet&greet in Milan with the instructions for the meeting. I go outside to deliver the passes and go back in with Livio. We see D., the band's personal security man, who is guarding the front door: the guys are coming. After Carter and Stefan get inside, we see A. (the head of merchandising) coming in a hurry with posters for us. Con-Fusion has had the acknowledgment on the posters for the Milan and Rome dates.
Meanwhile, journalists have arrived to attend a mini press conference with Dave. Waiting with them is Elena, one of Con-Fusion staffers, who is going to have a face-to-face fifteen minutes interview with Dave and whose article will be published in the April issue of Buscadero.
As agreed, the meet&greet will take place after Dave introduces Alberta Cross. J. leads us into a somewhat sad white-tiled room that soon will be filled with Dave's warm presence, always accompanied by D. and Monk, his personal assistant.
Dave loves to be surrounded by the warmth of his fans and, as I will find out during our chats, he's aware of everything Con-Fusion has done. I am particularly struck by his ability to interact with each person in no time, with comments that are never commonplace or predictable. His very unique sensibility leads him to grasp a descriptive detail about everyone. The origins of Dave's comments are truly unique and comparable to the work of a portrait painter, who in two or three brush strokes offers you an image you had never even noticed before.
Many times during those days, he'll wrap me up in his warm hug showing me all his esteem and affection. And after all these years he still manages to amaze me when, after the last meet&greet (Padua), looking serious and sincerely grateful he tells me 'Thanks for organizing all this', pointing at the Con-Fusion members and referring to his meetings with the fans.
Rome, February 23th
2 p.m. The long-awaited acoustic mini live by Dave Matthews and Tim Reynolds is about to be recorded in a Radio 2 studio. It is an unprecedented event for Italy, strongly wanted by Mimmo D'Alessandro, with the participation of Gerardo Panno (the journalist who broadcast live on Radio 1 part of the concert in Lucca) and the editorial staff of Moby Dick, all busy with the Sanremo Festival.
It's strange. Dave & Tim's weekend in Milan in 2007 also coincided with Sanremo, where most record companies and journalists can be found. But Mimmo D'Alessandro was tenacious and begged Gerardo Panno to organize this extraordinary event. It was not easy to fit everyone's time and commitments, including Dave & Tim's, but we did it. Con-Fusion thanked him by giving him the box set Europe 2009.
A small delegation of Con-Fusion members was present at the recording: myself, Chiara Renda, Giulia Savarese, Silvia Bonetti, Andrea Barbieri and Isabella Pregliasco.
The atmosphere is relaxed, warm and friendly as usual, but again nothing is left to chance. Monk works extremely seriously and silently, without paying attention to us. Dave and Tim do the soundcheck for the last technical details; they are precise, fast and extremely professional. Only enough time to chat a few minutes with Gerardo and Silvia Boschero, the confident and likeable presenter, and it's time for the show.
You don't often get to listen to Dave Matthews and Tim Reynolds play a few inches away from you, so I will always carry within me the indelible memory of this precious experience. You And Me, Lying In The Hands Of God, So Damn Lucky and Baby Blue shine like precious jewels in the religious silence of the studio. So Damn Lucky and Baby Blue are just amazing. Dave often sings with his eyes closed, Tim is focused on his guitar, and the tiny studio is soon filled with the special magic and chemistry this extraordinary duo is able to create. The songs are interspersed with Silvia's friendly and smart interview with Dave, plus laughter, gags, and the warmth of the tiny Con-Fusion audience that gets to have a long chat with Dave and Tim afterwards. I will never forget my brief conversation with Dave: I never asked for anything personal from him, he knows that, but I don't want him to leave Italy without singing my favorite song - Warehouse - at least once.
Time is running out and S. is in a hurry: he gives us Dave's guitar pick and tries to pull him away from our conversation. We are late as well and we must tune in with the band and crew's timetable. But what is the timetable? The touring day has a well defined schedule hung at strategic points of the backstage, so that everyone knows what their tasks are and when to carry them out. In Milan, the program included departure immediately after the show and a 7-hour trip on the bus. Which means dismantling not only the musical equipment but all of the DMB production equipment, then travel to Rome and set the stage and backstage again. The band travels on a private airplane instead.
The lack of time means that there will be no soundcheck in Rome. But the band's sound engineers have done wonders at the Palalottomatica, notorious for its bad acoustics. Their impeccable professionalism allowed them to dissolve the thick clouds and indistinct mixes that tarnished the glitter of the DMB sound in the first few songs. Genial lighting designer Fenton Williams was in perfect tune with the moods, colors and emotions of the band, even in the more minimalist dimension of European stages compared to those of the American summer tour.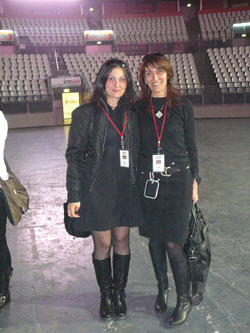 The appointment with Benedetta is at 5 p.m. at the Palalottomatica.
We meet K., who together with C. is one of the 'Production Ladies'. She's ironing Dave's shirts. Because the crew is also a very efficient and close-knit road family. We are in the hallway where all the dressing rooms are, and J. takes us to Rashawn Ross and gives us the passes and the instructions for the meet & greet.
Roberto Baruffaldi, author of the best interview ever with Carter Beauford (which was translated into many languages) joins me after the concert, and we arrange for him to meet Carter. At the crew's headquarters we are told we have to wait for a while, because Carter is taking a shower and relaxing a bit. Being the drummer, shows are particularly heavy on him so Carter usually spends almost all his free time resting at the hotel (he does the same when on tour in the States).
B and J are in front of their Mac, C busily comes and goes, then C. Taylor Crothers - he's the official DMB photographer - arrives with the trolley case containing his Mac and his valuable equipment. A smiling Jeff Coffin comes in with his saxophone. I have never seen Jeff without his saxophone and in London he will also play a little trick on me.
Dave comes in, holding a beer. 'How come you're still here?' he asks, 'I am still working' I say, and B explains that G. has asked me to get a hold of ten copies of the February issue of Buscadero and Jam with the review of the box set, which is disc of the month in both magazines. For the first time in many years a band - the DMB - has brought two historically "rival" music magazines to agree on something. 'Thanks for Warehouse' I say smiling, 'It was for you' Dave answers, and he emphasizes the sweetness of the moment by extending his arm towards me the way he does when he's on stage and nails you with a knowing look.
Carter finally arrives. Fresh as a daisy, he stands out with his huge smile and gives Roberto a hug I'm sure he'll never forget. 'Bob!!!' - as if they were good old friends - 'I didn't know you were here, I wouldn't have left you waiting so long!' he says, still hugging him, chatting and always smiling.
It's really very late and D. tells me we should go. Betty and I go with the others but Carter is unstoppable and I'm sure he would like to take Roberto to their hotel to keep chatting. We say a thousand goodbyes and we leave the Palalottomatica. As we walk along a small path the cars with the band drive by. Dave asks his driver to stop, opens the window, and kisses my hand. He sweetly apologizes, saying he didn't know we were waiting so long at the aftershow, otherwise he would have come see us sooner. Carter says goodbye again and Bob takes us to our hotel.
Padua, February 25th
4.30 p.m. In front of the arena we eat the by now famous frico. Having entered the collective imagination of Con-Fusion before the Italian tour, it has now made its appearance also in the backstage. B and J, intrigued, try it while we straighten the last organizing details: the passes for the last meet & greet, the press review to be handed to G in London, the security from ZED Live confused by the bracelets' color - 'weren't they red?' - yes, today they are red, but Con-Fusion members proudly show off also the green and white ones from the previous gigs.
A. opens the box with the beautiful Padua posters and we collect the triptych for Con-Fusion. Taylor arrives with his trolley and quietly prepares for his job. Taylor is never in a hurry, he moves with elegance and knows perfectly when to snap to capture unforgettable moments with his camera.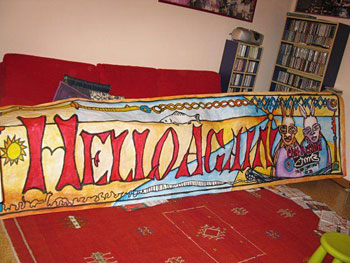 I end my DMB Italian tour attending the second half of the Padua concert next to the stage. I choose a location that allows me to see and listen quite well what's happening on stage, but most of all to watch spellbound the ecstasy of the front row of the audience, where the members of Con-Fusion are standing. D, J and Monk are in their places and I'm amazed at how, after so many concerts, D stills dances to the music with genuine enthusiasm. A little later Adolfo Galli joins me and we exchange a few words. He is standing, too. He smiles with satisfaction while his leg can't stay still on All Along the Watchtower.
Gerda rolls up the sign the Stefan likes, the masterpiece he has drawn for this tour and that he is going to hand over to Fonz.
At the end of the concert the guys come off the stage lead by J's torch and with D's supervision. Adolfo shakes hands with Dave and Carter approaches a colored boy that they have let in so that he could meet his idol.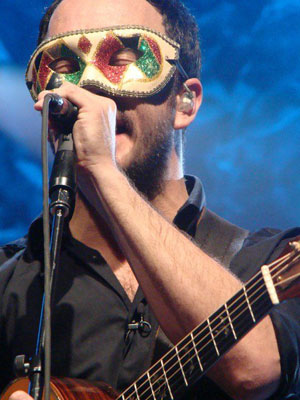 Carter hugs him and gives him a couple of drumsticks. The band goes back for the encores and I hold my breath on Baby Blue. Taylor quickly mounts on stage to photograph the front row, he knows that something is going to happen.
At each concert Italian fans have worn a different themed mask: in Padua they all have a carnival mask. Giulia gives hers to Dave, that wears it on a wonderful Sledgehammer coupled with Shake Me Like A Monkey. Confetti that sparkle like stars fly in the air and so ends one of the most intense concerts of DMB.
We say goodbye to the crew, that we are seeing again in London. Rashawn comes out with his dinner and enters the band's dressing room, dominated by a large sofa that allows everyone to be seated comfortably. A football match is being broadcasted on a plasma TV. They laugh and above all the noise I clearly hear Carter's infectious laughter. J nods pointing to Stefan, that, although I didn't realize it, is standing a few inches from me. I hug him warmly. The band enjoys the break, they all talk and laugh with each other. Me and Betty are going to see them again very soon, so we decide to quickly say goodbye from the door and leave the room. See you in London.
London, May 6th
11.30 a.m. I land at Luton airport full of magazines and with the first reviews of the Italian shows translated, in less than a week, by Carla Melis. While I have breakfast with Elena at Luton, Betty and Diego have landed at Stansted and Riccardo is already somewhere in London. I realize that, thanks to a curious coincidence, the full team of Con-Fusion's translators is here in London: Elena Pizzetti, Riccardo Ranzato and Benedetta Copeta. Carla Melis is represented with her own work and with a beautiful letter to Dave, that I would like to publish with her permission, as it soberly expresses the passion of one of Con-Fusion's most precious collaborators.
Hello Dave,
my nameīs Carla (we met at the meet & greet in Rome, you signed my shirt on my left shoulder) and I am one of Con-fusionīs translators. I just wanted to let you and the guys know that all of us Con-fusion members truly appreciated you guys coming to Italy for 3 dates. We really enjoyed your shows and I can assure you that our forum is bursting with enthusiastic comments, moving memories, beautiful pictures and joy for what weīve seen and heard. Hopefully you guys had as much fun playing here as we had watching you and singing and dancing with you.
As for myself, itīs been a pleasure and an honor to read and translate all the reviews about your amazing music, I did my best to convey the appreciation, admiration and respect all the reviewers expressed in their writings. Con-fusion members know very well and cherish what your music is about, the emotions you can give, and the amazing musicians you all are. Now more and more people will be aware of that (weīre getting new members every day!), and we are all happy about it and, may I say it, very proud of what Con-fusion is doing.
I donīt want to take more of your busy time, so have fun for the rest of your stay in Europe, have a good trip back, and take care.
Itīs good to know that you guys are somewhere in the world making people happy and 'spreading the loveī.

See you next time!
Carla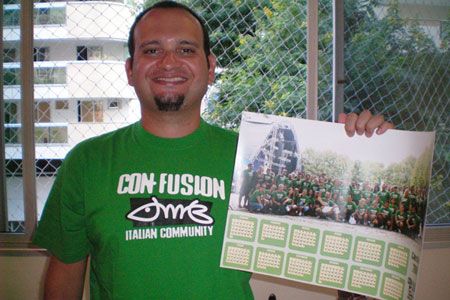 Rodrigo Simas, webmaster of DMBrasil, is also in London. I haven't seen him for three years and, in a few hours, I am going to share with him one of the most important experiences in all my history with the DMB. As he will tell us later, Rodrigo has been walking for six hours in London with Jeff Coffin. Jeff is a tireless man who loves to walk for hours.
4 p.m. The O2 Arena has an amazing structure and when I arrive it takes me some time to find the DMB production, as tonight they are having two concerts and they have two different production areas, both organized by the voracious LiveNation. While I roam the corridor looking for the right doors, I spot Rashawn quietly entering his dressing room.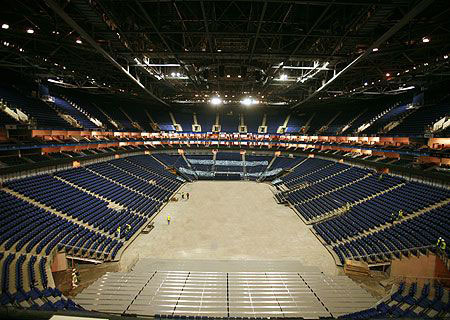 I'm behind him but I don't greet him as the sight is really delightful: he is walking slowly and rhythmically moving his head, then he nods as if to say 'there it is', he sings 'nananana!' and plays a few notes with his trumpet before disappearing from view.
Here the Production Ladies have their own office. K hugs me, C takes a nap on the floor, opens an eye and then smiles with all the enthusiasm her remaining energies allow her to express. I lay beside her and we chat. While I regain my strength G comes in and brings me in his office. He takes out of the box with the Warehouse envelopes the one with my name where, he explains, I am going to find the all access pass for me, three tickets and three lounge passes.
Walking toward the entrance I run into Carter, with his infectious laugh, Stefan and Tim. We say hello and hug and then, continuing through the corridor, I find myself in the middle of the empty arena.
The stage is behind me and I am made speechless by the beauty of the place. The silence is unreal. I feel somebody is watching me. I slowly turn around and see Dave leaning on the barriers and staring at me. We chat for a while and then I head back toward the entrance to give Elena the backstage pass and the lounge passes to Riccardo and Diego.
I enter the backstage with Betty ad Elena and we meet Dave in the corridor. He recognizes Elena. We decide to ask him something I've wanted to know for some time: I give him a copy of Scratch My Back, the last masterpiece by Peter Gabriel, of whom Dave is a fan. While Scratch My Back was still in the making, American forums spread the news that one of the artists involved in the project was Dave Matthews. Having found no evidence, I asked for information to the staff of Peter Gabriel but all I have been able to find out is that Dave was among the artists they were considering and that Peter liked his version of Sledgehammer. As Dave confirms us, however, nobody got in touch with him for this project although he would have liked to take part in it 'no, I've never heard anything about it, I would have liked it, but nobody asked me... I will be in the next' he declares smiling. With Dave are also J and D. J is hilarious. He explains to us that in London there are different kind of passes. That Betty and Elena can stay for now, but later they cannot access the backstage again. While explaining this he keeps joking about the fact that he can't understand anything of what I am saying to the others in Italian and who knows what I'm telling them about him 'your English is wrong, but better than my Italian'.
At last Rodrigo comes in. There is little time and he has to get his photo pass. We chat with Taylor, who is working on his Mac while kneeling on the floor and preparing his equipment. Rodrigo is exploiting each precious second in the backstage by doing different things at the same time. I just have the time to say hello to B., C. and Fenton and the show begins.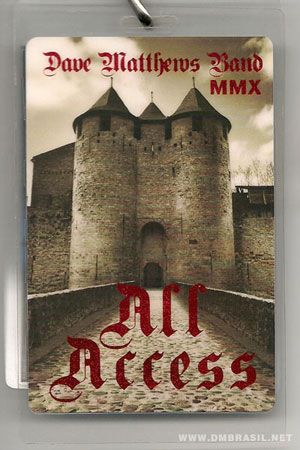 The band in London is simply unbelievable from the very beginning: after the fascinating Still Water, on Don't Drink The Water Fenton lights up at once the whole arena. The band plays one of its best concerts, reaching unthinkable levels and even making the memory of Lucca fade away. This concert has been stronger and the musicians perfect. These versions of the songs and the improvisations are of the highest level. The band is in perfect shape and get along incredibly with each other on stage. The whole audience grants a standing ovation. It seems as if they have been swept away by the vortex of a violent tornado. The set list leaves me speechless. The band closes the concert with one of my favorite songs, Stay.
After the show I am talking with Rodrigo about some common projects when a sax playing behind me gives me a start. It's Jeff Coffin, whose joke has succeed perfectly: he bursts into a laughter.
Despite a busy day, in which he never had a moment of relax, and with the sax still hanging from his neck, he seems ready for nightly adventures.
In the backstage is the elite of the DMB production, including Coran Capshaw and the heads of LiveNation. That night they are inaugurating the official European DMB store and there is a lot of excitement. Rodrigo and I talk with everybody. D keeps wondering how we manage to communicate: we show him our personal and by know perfectly working language, a mixture of Portuguese, Spanish and English. We also talk for some time with Stefan, mainly about music and our future projects.
After London, Rodrigo is going to the Manchester and Dublin concerts. For me, instead, the time has come to say goodbye to everyone. I say goodbye and hug everybody. See you at the summer tour, guys!
The cab that the next morning takes me to Luton smells of cinnamon. The nice driver offers me some chocolate and I notice that despite the cold weather the sky over London is incredibly blue and sunny. My work on the road has ended and I can abandon myself to a sleepy drowsiness that smells of chocolate and cinnamon.