Starting from the concert in Lucca, the Italian press has reviewed the DMB shows in Italy with passion and enthusiasm. After a ten years gap, the return of the band in 2009 was a triumph, immortalized in the official release of the box set Europe 2009, which even brought together the opinions of two historically "rival" music magazines as
Buscadero
and
Jam
(where the box set was reviewed as album of the month in the February issue).
Here are some reviews of the DMB 2010 Italian tour, including interviews with Corsina Andriano and Luigi Lenzi, respectively President and Founder of
Con-Fusion
.
***
The Seven Samurai of "American jam" fascinate the PalaFabris
translated by Carla Melis
Three hours of rock, jazz and folk 'fusion': the Dave Matthews Band delights the audience with a live performance focusing on their latest album, "Big Whiskey And The GrooGrux King ', an album with record U.S. sales.
PADOVA - Thursday evening at the PalaFabris of Padova over three thousand people from all over Northeastern Italy and the Emilia Romagna region (there were also a few Americans from the Camp Ederle military base in Vicenza) enjoyed a stunning performance by the Dave Matthews Band, rightly considered the best American jam band (certainly the one with the biggest following).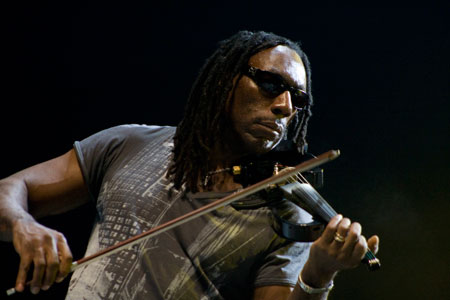 One of only three dates in Italy, the concert lasted just under three hours and confirmed the usual blend of rock, jazz and folk, spiced up with sharp thrills and solos that highlighted the superlative technique and passion of the seven musicians on stage: Dave Matthews on guitar, Stefan Lessard on electric bass, Boyd Tinsley on violin, Carter Beauford on drums, Jeff Coffin on saxophone (replacing founding member LeRoi Moore, who died in an accident in 2008), Tim Reynolds on (electric) guitar and Rashawn Ross on trumpet. The concert was centered on the band's latest album, "Big Whiskey And The GrooGrux King ', that entered the U.S. charts directly in first place with over 420,000 copies sold.
Opening act Alberta Cross, one of rock's most promising groups from the American indie scene, rather below par that night in our opinion.
Corriere del Veneto (february 2010)

Go to the article

All the articles