Starting from the concert in Lucca, the Italian press has reviewed the DMB shows in Italy with passion and enthusiasm. After a ten years gap, the return of the band in 2009 was a triumph, immortalized in the official release of the box set Europe 2009, which even brought together the opinions of two historically "rival" music magazines as
Buscadero
and
Jam
(where the box set was reviewed as album of the month in the February issue).
Here are some reviews of the DMB 2010 Italian tour, including interviews with Corsina Andriano and Luigi Lenzi, respectively President and Founder of
Con-Fusion
.
***
Once Upon a Time in America. Interview with Luigi Lenzi
by Claudio Morsenchio
translated by Carla Melis
There was a time when musical wonders arose spontaneously anywhere. Years, decades, in which whole music scenes or bands emerged from anonymity due to the direct relationship between artists and audience. Excluding rare cases, now that time is gone. Luckily for himself and for us, Dave Matthews put his band together when the streets of music were still free from toll booths and checkpoints...
Close your eyes and imagine the atmosphere in an American college. Classes, study rooms, football teams, 'Steve Jobs' apprentices and 'American Pie' style loafers, cheerleaders and Hillary Clinton wannabes. And don't forget frat houses and such. Culture and timewasting at its best. A fertile ground for music (a kind of entertainment that is centuries old and is able to express the feelings and moods of a generation or a socio-cultural environment).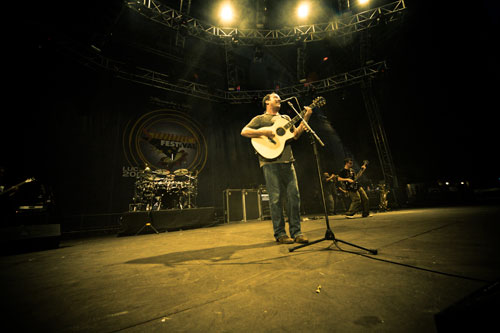 Keep your eyes closed and set this scene at the beginning of the '90s, when music in colleges still represented one of the main reasons to gather and be a community, way before virtual communities were born. The social networks during that period were actual meeting places and mp3 were not around yet (not even CDs were that common yet). Music was shared through word of mouth and exchange of tapes. During private parties, and also public parties such as proms, there was live music coming from a band on stage, not a Dj playing records. Dancing and partying with live music are among the oldest traditions in the history of humanity.
This is the context that sees the beginnings of a band led by a South Africa born bartender called Dave Matthews. This group of virtuoso musicians played a delicious and effective fusion of different rhythms, sounds and atmospheres. "The different styles could make everybody happy." says Luigi Lenzi, founder of Con-fusion - the super active DMB Italian fan club, "From rock to folk, from pop to world music, even to progressive music, there was something for everybody in the music played by the Dave Matthews Band."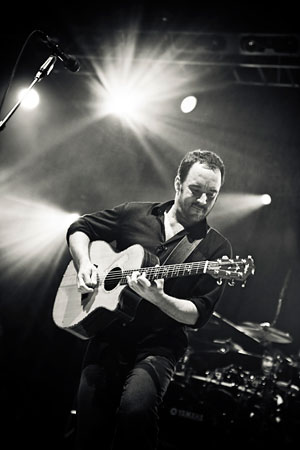 Keeping it all together was the enthralling groove that is the band's main trademark. "Moreover, Dave's persuasive voice spoke a very simple language, able to connect with college kids, able to involve them and move them" Luigi tells us. Even the band's look, or better the absence of a pre-planned look, as if they were just coming out of a shabby rehearsal (Dave's jeans-and-Thirt style is a sure thing nowadays) shortened the distance, establishing a sense of friendship and brotherhood between musicians and audience. In short, artists and students were all in the same boat.
Another important element that explains the Charlottesville band's growing popularity is their live presence. While their songs were invading college and university campuses radios until they reached national networks, Dave & Co. were playing like crazy all over the States, becoming one of the most important American live bands. Tens of thousands of people would soon come to see them play. "The popularity among students granted the band quick and easy advertising" says Luigi. "Spontaneous advertising that didn't need to rely on music business tricks.
In no time, the band was playing sold out arenas and spectacular natural stages such as Red Rocks in Colorado (one of the most fascinating places in the U.S. and very dear to the DMB), and Central Park in NYC (where 100,000 people gathered in September 2003 during the Busted Stuff tour)."
The lack of all the abovesaid elements is probably the reason of their scarce visibility in Italy. However, something similar is happening nowadays in our country as well: the passion of their hard core Italian fans is creating an absolutely spontaneous DMB community, without any marketing intervention from the music business.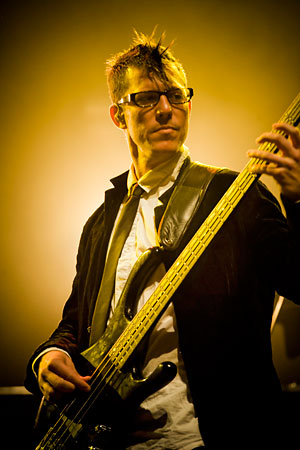 So much so that last summer the DMB came back to Italy after 11 years (although it would almost be more appropriate to consider it a first visit, given the scarce audience attendance in '98) thanks to a unique initiative coming from the Con-fusion guys. "It all started after Dave's solo acoustic concert in Milan, in March 2007" Lenzi tells us. "We got to know the band's manager and we decided to start an online petition, asking people to show their interest in having the DMB play in Italy. Many people signed the petition on our website, giving their names and email addresses. We quickly gathered over 2,000 signatures and the following summer some Con-fusion members went to the DMB concert in West Palm Beach, Florida, to hand the petition over to the band, as a testimony of the Italian fans' affection."
The sacrifice was worth it: last July, Dave and partners played in Lucca, in one of the best and most moving shows of their very long live career. Over 3 and a half hours of an exciting and professional performance, followed by the promise to come back to Italy very soon.
Fast forward till today. To keep the promise, the DMB has planned 3 shows in Italy, all in February. Trust somebody who was lucky enough to attend a DMB concert: the true self and deeper soul of each musician in this band come out freely during their live shows. The connection created during a show forms an unbreakable bond between the band and the audience, the same bond that almost 20 years ago allowed the DMB to speak right to the hearts of the American university students. That is why at home the band from Charlottesville is still considered one of the best jam bands around, or better the best, and it's gaining more and more popularity in Europe, Italy included.
Refined technique, vibrant energy and a thousand musical paths make each concert a one of a kind. They like to rearrange their hit songs - by adding,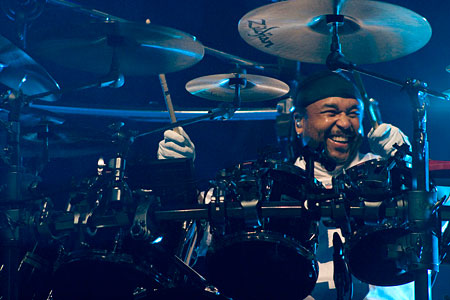 stretching, changing and freely manipulating them - but don't be afraid, you won't feel lost: this is normal (or is it extraordinary?), it's the Dave Matthews Band, and the stage is the best place to be for them. It's no surprise that their live records (actual CDs and downloads from the official website) are more than the studio records.
Remember our little experiment? Now you can open your eyes. Maybe you will not capture the magic of the American '90s, some of you might be a little too old to be students (including myself), and Italian arenas are not colleges in a big U.S. city, but we can have a great experience anyway, just as if the Dave Matthews Band's fairytale were starting today. And we all know that fairytales always have a happy ending. Enjoy yourselves!
Make some noise!
In spite of their rare shows in Italy, the DMB can count on a base of respectful and dedicated fans who devote their time to spreading around news, interesting facts, events, merchandising and initiatives about the band, thus promoting the DMB in Italy.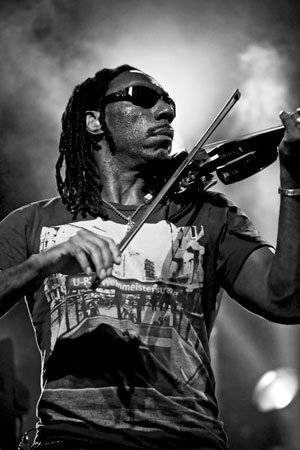 It all started in 1998, during the band's mythical (and in a way a little distressing, given the very scarce audience) show in Correggio. That's where a few fans met and decided to start Con-fusion. During the last 12 years they have created tribute bands and organized shows to honor the DMB, slowly becoming one of the longest lasting DMB fan clubs in the world. The creation of the Con-Fusion website was a turning point. The busy forum offers official news coming directly from the U.S., comments and various activities at national level. Many of the events promoted by Con-fusion are linked to shows by the Joe Busted Band (a DMB tribute band) and to meetings. For instance, when Dave played solo in Milan, Con-fusion fans wore red T-shirts, while in Lucca they wore green T-shirts. For the three concerts of the Italian tour they are going to wear white T-shirts, thus completing the Italian green, white and red national flag.
We would like to mention here the big party that will take place at the 'Salumeria della Musica' in Milan on February 21 to honor the band. Another event not to be missed by aficionados is the U.S. documentary Dave Matthews Band: The Road To Big Whiskey, an impressive tribute to the band with material still unpublished till now. And who do you think translated it into Italian? C.M.
Rembember These Things
From 1993 till now, the DMB published nine studio albums: Then there are the numerous live records, among which the Live Trax series (started in 2004, it was only available online up to vol. 6) and DMB live (started in 2008. Fans can buy the recording of concerts in digital fornat, mp3 or flac, from the band's official website).
Here's a brief summary of the band's studio album discography:

1993 - Remember Two Things (Bama Rags Records)
Self-released, with 6 out of 10 tracks recorded live, the first DMB album contains some of the classic songs the band later included in other records, such as Ants Marching and Tripping Billies. Well received in the college circuit where the band was gathering a fanbase. The album was reissued by RCA in 1997.

1994 - Recently (Bama Rags Records)
Their only EP. Five tracks among which Bob Bylan's cover All Along The Watchtower , plus acoustic versions of Dancing Nancies and Warehouse recorded live by Dave and guitar player Tim Reynolds (good friend and partner of the band, nowadays a steady member) in a club in Charlottesville.

1994 - Under The Table And Dreaming (RCA)
Things are about to get big: the band signs with a major label, works with producer Steve Lillywhite and releases an album that contains the studio version of 2 songs from Remember Two things (Ants Marching and Satellite) and 2 songs from Recently (Dancing Nancies and Warehouse). The album spreads the band's fame all over the States.

1996 - Crash (RCA)
It's full-blown fame. The album contains some of songs still most loved by the fans, such as #41 and Crash Into Me. The album gets four Grammy nominations, and So Much To Say gets the DMB a Grammy Award for 'Best Rock Vocal Performance by a Duo or Group'. Dave Matthews is now a star and one of the most appreciated musicians in the States.

1998 - Before These Crowded Streets (RCA)
The third consecutive record produced by Steve Lillywhite debuts at No.1 on the Billboard 200 charts after selling 421,000 copies during the first week. The record marks a turning point as far as the band's sound is concerned (more complex arrangements) but the DMB true soul is always there: great songs and instrumental virtuosity.

2001 - Everyday (RCA)
Produced by Glen Ballard (who had worked with Alanis Morissette), this album is a commercial success thanks to hits like the title track and The Space Between. The band is not completely happy about it, though, and so are some fans: The sound is too pop. Demos of the first recordings of Everyday with Lillywhite start appearing on the net. People seem to like those songs better, so the band goes back to the recording studio...

2002 - Busted Stuff (RCA)
The "Lillywhite Sessions" include Bartender, Grey Street and Grace is Gone, great songs that deserve to be recorded. In Busted Stuff there are 9 out od the 11 songs from those recording sessions, although the single from the album was the new song Where Are You Going. Album producer was Stephen Harris, who was the sound technician in previous works.

2005 - Stand Up (RCA)
After a gruelling tour schedule and many live records (and also after Dave's solo project Some Devil in 2003), the band is back to the recording studio at the end of 2004, and publishes the seventh album in May 2005. Stand Up sells 465,000 copies during the first week, first place in the Billboard Chart, but critics are divided: is this a masterpiece or a mediocre record?

2009 - Big Whiskey And The Groogrux King (RCA)
The producer is Rob Cavallo (Green Day, Alanis Morissette and others). One of the most intense albums of their entire discography. Dave's inspiration is deeply influenced by the tragic loss of LeRoi Moore, saxophonist and founding member of the band, who died in the summer of 2008. Big Whiskey is a slap in the face to those who thought the DMB star was fading.
On Stage (february 2010)

Download this article in PDF format

All the articles