Starting from the concert in Lucca, the Italian press has reviewed the DMB shows in Italy with passion and enthusiasm. After a ten years gap, the return of the band in 2009 was a triumph, immortalized in the official release of the box set Europe 2009, which even brought together the opinions of two historically "rival" music magazines as
Buscadero
and
Jam
(where the box set was reviewed as album of the month in the February issue).
Here are some reviews of the DMB 2010 Italian tour, including interviews with Corsina Andriano and Luigi Lenzi, respectively President and Founder of
Con-Fusion
.
***
Our love for Dave Matthews. Interview with Corsina Andriano
by Matteo Cruccu
translated by Benedetta Copeta
The biggest Fans Club is in Italy «we're going to welcome him wearing masks»
It's not being in the spotlights nor being a mass-media phenomenon that made Dave Matthews and his Band one of the most popular bands in the world. It because of fans, just fans. Not many can adorn themselves with something like 1600000 tickets sold in 20 years spent touring around the world. Maybe only Bruce Springsteen can rely on such a deep relation with his fans. Italy is no exception. The first of three gigs that the DMB will perform in Italy,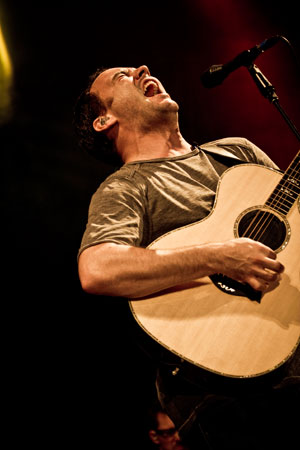 tomorrow at Palasharp, is almost sold out. But, above all, the Southafrican leader will be facing during the show a huge white and masked crowd. It's the people from «Con-Fusion» the most long-lived fans club, born in 1998. «wearing masks is the way we've chosen to show our love to them. With our 1000 members we're bigger than all the other European fans clubs together» explains Corsina, 49 years old psychiatrist from Milan who's the head of «Con-Fusion». It's almost a second job, considering 21 concerts attended all around Europe and US and all the efforts to arrange a proper welcome to the band for this tour. Tonight people will gather at Salumeria Della Musica (Via Pasinetti 2 at 7-8 PM) , for the Joe Busted Band's concert, for books launch and more. Corsina is a professional as much as many other people in the fan club. Lawyers, engineers, businessmen «Our passion for music is the binding agent, we all fell in love with Dave as we saw him playing live, sometimes just on DVDs, during the time that he would not come to Italy. Because Dave Matthews, after an unsuccessful gig in Correggio in 1998, had not come to Italy for 11 years, not including his solo show in Milan in 2007. «That's when we made him understand that we wanted him back here again with the guys». 2000 people signed a petition to have them back and Dave was so moved that decided to put a halt to this era, last year in Lucca.
Corriere della sera (february 2010)

Go to the article

All the articles